Christmas is What You Listen to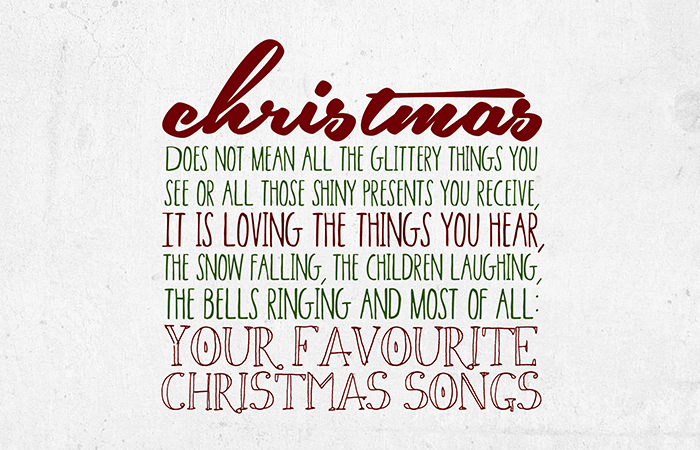 Music has always been a great inspiration for my work. I'm a big Indie, and yeah, I confess a little bit of Folk too, lover and nothing is more essential to my daily being than finding the perfect song for each moment. Hence, I always wondered about blogging a bit about the music that helps me to keep stuff going on.
Since due to some distracting work in the last days, I kept searching for the right Christmas songs to get into at least some festive feelings. And I think I found some solutions. Thus, I prepared a
cute little playlist for you out there and hope you like it.
Shiny bright holidays to you.
1. The Shins – Wonderful Christmastime
The Shins and James Mercer in general have always been there, when I needed
something to hold on to. Hence their sing-along cover version simply had to be
on this list. Simply having a wonderful Christmastime.
2. The Raveonettes – Christmas Song
A less cheesy song recorded by the Raveonettes. I especially like it, since they do not
loose their specific sound within this song and yet achieve to add some holiday attitude to it.
3. She&Him – The Christmas Waltz
Zooey Deschanel is not only stunningly bonny AND humorous actress, moreover she's a great
singer with an unbelievingly adorable voice. Her Christmas Waltz is one of the tackiest
songs on this playlist, I guess. Yet, you simply have to love that girl.
4. Bright Eyes – Blue Christmas
I have to confess, I partly hate it, when awesome bands do something like this:
Recording a whole Christmas album. Yet "A Christmas Album", released by Bright Eyes
in 2002, left me stunned. Also tune into their genius version of "Little Drummer Boy"!
5. Frightened Rabbit – It's Christmas So We'll Stop
I especially like Frightened Rabbit for putting so much distress into their songs that it
fairly hurts listening to them sometimes. And since I'm always getting kind of emotional
around this season of year this song is the perfect cry-out.
6. Mazzy Star – Flowers in December
Mazzy Star: my favourite music for the sadder times in life. I always refer back to
Hope Sandoval, if I need some words and tunes that exactly express how I am feeling.
This is how I mostly feel about those days in December.
7. Low – Just Like Christmas
I've never been quite sure what to think about Low. Yet, I do love them. This year's album
actually has had some great influences on some of the works I did. It's their confidentially
soft tuned songs that let me dream of what can be done.
8. Fleet Foxes – White Winter Hymnal
Yet, actually this was never intended to be somewhat like a Christmas song, but
apparently has some links to war time or at least some sad story. However, it always
sounds like a fairy tale to me and when listening I always imagine wandering through
a snow-white wonderland, helplessly and aimlessly searching for all the things I'm
craving for in hard times.
9. Calexico – Green Grows the Holly
In fact the lyrics are attributed to King Henry VIII and became a quite well-known
Christmas Sing-along. However, as Calexico always do, they managed to make an epic
and deep song out of it, being featured on "Christmas Rules" by Hear Music/Concord Music Group
10. The Oh Hellos – Begin and Never Cease
One of the songs I especially enjoyed from this year's releases. You should generally
check out The Oh Hello's folky tunes. Their mostly available free download, as is the
4-tracks Christmas Family album here.
11. Arcade Fire – Winter For a Year
http://www.youtube.com/watch?v=Xvn5i3931JE&feature=share&list=PLzO0C0jgemqSJQHoXFI0UGM-H_e80f7TC&index=9
An early piece from their 2001 Demo "album". I love the earlier rougher sounds
in this song. Moreover it reads a bit like a reference to Narnia, why it feels truly
lovely too.
12. Joshua Radin – Winter
I don't exactly know why, but since someone special send me this song some time ago,
I always dedicated it to Christmas time. May it be the title or the regretful voice, it
forces you to hug everyone around you and don't "stay this way".
13. Mumford & Sons – Winter Winds
This then following Joshua Radin is the perfect song for letting it go, whatever let you
stay that way. However, again not a Christmas song per se, it's one of those that just
give you that certain feeling. And "Winter Winds" certainly does.
14. Camera Obscura – The Blizzard
Oh, we see some connection here. Longing over snow, winter and its winds, we finally
end in a blizzard of Christmas feelings. The cover of a Christmas classic by Jim Reeves
simply blew me away and hence needs to be on this.
 15. Snowmine – Let me in
http://www.youtube.com/watch?v=_y3GfgcgB_E&feature=share&list=PLzO0C0jgemqSJQHoXFI0UGM-H_e80f7TC&index=19
And what do we want most when a icy cold blizzard is blowing around our frozen selfs?
Being let in by the person(s) we love. The perfect song for driving home on Christmas Eve.
 16. The Go-Betweens – Finding you
Ever since an Austrian cellphone company used this song as their soundtrack for a
Christmas commercial, I remember baking cookies while listening to it. I guess, it
is featured in my December playlists every year.
17. The Head and the Heart – What Are You Doing New Year's Eve?
Like Calexico, being featured on "Holidays Rule", The Head and the Heart as always
ended up in my playlist. Since their latest album has been running on repeat the last
months, it is one of my favourites this year's holidays.
18. Belle and Sebastian – Are You Coming Over For Christmas?
So I'm asking you one last question: Are You Coming Over for Christmas? Since Belle
and Sebastian simply had to be on the list of a big fan. Yet, I'm not quite confident with
this song, but: "I wish you the best" and "I'm glad you came".
_______________
What are your most favourite Christmas songs?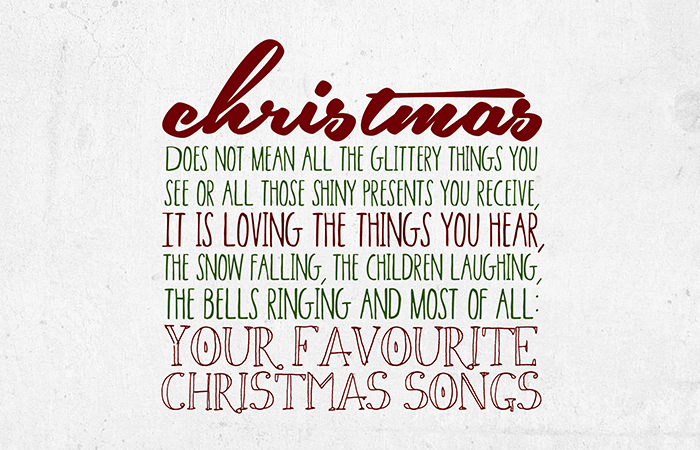 3 thoughts on "Christmas is What You Listen to"